Up & Away Games
Founding Fathers
The board Game of American Political History March 9, 2017


Videography

Introduction:
Founding Fathers is a game of the early American republic. Play begins with George Washington as president and John Adams as vice president. Also present are Benjamin Franklin, Patrick Henry, Thomas Jefferson, Alexander Hamilton, James Madison and Aaron Burr. Each player controls several such statesmen, and those who will appear later, up through the arrival of Abraham Lincoln. Together the players try to solve the issues faced by the young republic – wars, debt, financial panics, the growth of the Union, north-south division, and more. Every four years the most popular politicians from each party square off to see who becomes the next president. Players look out for their own interests, but must not neglect too much the needs of the Union as it can falter altogether, from multiple causes. At the same time, players control statesmen from both parties and multiple states, providing ample opportunity for logrolling, mutual backscratching and strange bedfellows.

Editions
Game Crafter edition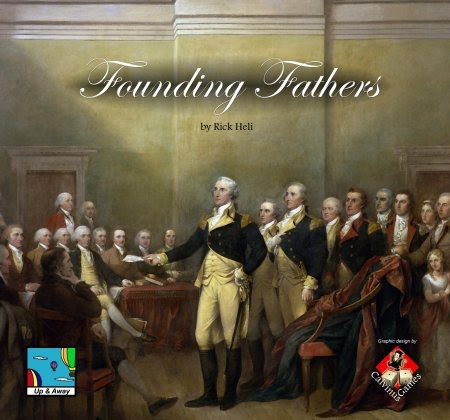 cover

This edition features a sumptuously gorgeous graphic design by Italian artist Luca Cammisa This edition has everything: board, cards, bits ... even a box. To ensure you have the complete early American experience, there are
187 cards, including 50 historical statesmen and 67 actual issues of the era, plus action cards, offices, taxes, tariffs and the original states

a full-color 18"x18" board

143 wooden bits

player mats

a rules booklet, with many more examples, in full color.
For those familiar with the previous editions, this one also includes two new scenarios, additional action cards to cause more mischief and new optional rules.

Green Edition
The Green Edition, also from The Game Crafter, has everything the Game Crafter edition has with the exception of the printed rules, player mats and box. We can probably not deliver such items to you as efficiently as you can for yourself. Which you will want to do anyway, just to ensure you always have the latest Living Rules. Indeed you may not even want printed rules at all if you are able to read them on a mobile device. If this seems strange, think about it. All "paper" is delivered on-line now: newspapers, magazines, computer manuals, insurance, banking and tax information, etc. This isn't a games problem; it's a paper problem. Should games really be any different? Let's all save a tree.

The Offices & Statesmen Expansion
Ratchet up the fun with this cute little addition to your Founding Fathers base game. New Statesman offer new Election possibilities. New Offices mean more opportunities for Presidents to negotiate and more rewards to bestow. New Actions provide even more ways to vex and surprise the opposition. Plus, now you can play solo games against a virtual opponent or head-to-head in the party vs. party two-player variant. Finally the Historical Factions variant groups like Statesmen together, providing even more real-life flavor. Includes:

17 Statesmen cards

4 Office Cards

10 Action Cards

5 revised Issue Cards

10 additional white cubes

2 larger white cubes

4 larger green cubes

Small rules booklet

The Ladies & Orators Expansion
This bite-sized but satisfying expansion kit translates an early date for suffrage for women into the possibility of ladies participating in the government. In addition several Statesmen like Daniel Webster now have a new Orator ability. Others like Andrew Jackson have improved Ability when they act as General. And as always there are more opportunities for subterfuge. Includes:
8 Statesman now have oratorical abilities that enhance their ability to gain popularity by making speeches.
3 Statesmen now have extra ability when they serve as General.
3 female politicians who can enter play.
New rules mean that presidential candidates who lose twice must bow out.
A card that if you pass the Sedition Act you can put your fellow politicians on trial.
5 black rings
Thanks for the suggestions of Tom Edsall, Chris Farrell and John Weber that helped inspire parts of this expansion!

Rules

Rules (click the link and search for Living Rules)
Or, instead of reading, watch this video that covers all of the rules.

FAQ/Charts

Rick Heli